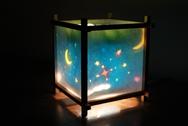 Magic Lamp was started by my husband and I 30 years ago. We continue to make each lamp by hand with the help of two of our friends.
They become very popular kids nightstand lamp over 30 years.
Many new moms who used to have our lamps are buying another one for their babies.
Our lamps are inspired by Japanese Mawari-Doro (turning lantern) traditionally used in Buddhist ceremonies to commemorate our ancestors. We modified these lamps and created our own designs. We call them Magic Lamps because they spin without any motors or mechanical parts. The heat from the bulb spins the lamp.
The silent spinning of the lamp and colorful designs are popular with parents, babies and children, but you don't have to be one of these to enjoy our lamps! Our lamps create a soothing atmosphere suitable for any room.
We are located in Vancouver, BC, Canada. If you have any questions, please call us at 1 (604) 251-7601 or email magiclampca@gmail.com